Please note that this is just a request. Once request is made you will be contacted by email to finalize your appointment.
*All clients are required to read through the "before you book" page entirely BEFORE booking an appointment for a tattoo service!
No one under the age of 18 is permitted.
Please do not purchase gift cards for hair or lash services as Browlicity does not offer those services currently.
-Microblading
PLEASE NOTE! The prices below are for Felicity and Sammy only. If interested in booking with Samantha please message her directly from the meet the team page. (

prices subject to change at anytime)
Starting at $600 : 2 – 3 hours
What is Microblading? Microblading is a form of tattooing. T

his technique alone is a very natural look and best for those who are wanting a more subtle enhancement. It can also be more of a transformation on those with very sparse brows, but still heals to look more on the natural side. This is a manual method of implanting pigment into the upper layer of the skin or epidermis to mimic the look of hair. This is for anyone who wants to enhance the look of their eyebrows rather there is hair present or not. Microblading may not always be a complete substitute for make-up for everyone depending on their natural brows and daily makeup routine, but still aids to guide and save time if they do wish to add color. See below for the different types of permanent makeup brow services. 
If going into a tattoo shop to get your brows tattooed they most likely use the same ink they'd use on the body and we do not. We are also able to get a much wider range of natural colors with our pigments.
Does it hurt? This varies for everyone depending on one's pain tolerance, however most people are very comfortable after being numbed with the topical.
Is there paperwork to fill out? Yes, everyone must fill out paperwork/consent forms before the procedure will be performed.
How long does it last? Microblading lasts 1-3 years depending on lifestyle and skin type. Combo brows, Airy Fusion or Ombré can last 2-4 years. Before getting touch ups brows MUST be good and faded at least 50% overall!!
Can I still wax and pluck? Yes, waxing and/or plucking is recommended around and outside the microblading to keep your brows looking clean.
How is the shape determined? This is where the majority of time is spent. You're face is measured and mapped to get the correct size and shape brow. It is drawn on the face and shown to clients for they're approval before moving forward.
How is the color determined? Pigment is mixed accordingly to your hair color and skin tone.
What if there is a possibility I may be allergic to the pigment? If you have any known allergies to metals or anaesthetics, you must disclose this before hand and a patch test can be done.
Who is an ideal candidate for Microblading/PMU Brows?– Anyone who wants to enhance the look of their brows. Although it can totally transform the look of someone with sparse, uneven, or no brows at all and give them natural looking brows to frame their face, those who have brows may still want a more perfected look as well. Microblading alone isn't ideal for someone with very oily skin. (See below for combo, airy fusion  or ombré brow). If you have course, or bushy natural brow hair you may not be the best candidate. Please email us pics if you're unsure.
Is there any down time? No downtime, just aftercare that needs to be followed for 10-14 days after the procedure. Instructions will be given to all clients and went over. Brow area will be a little red and tender for a few days  but usually there isn't any major swelling or bruising.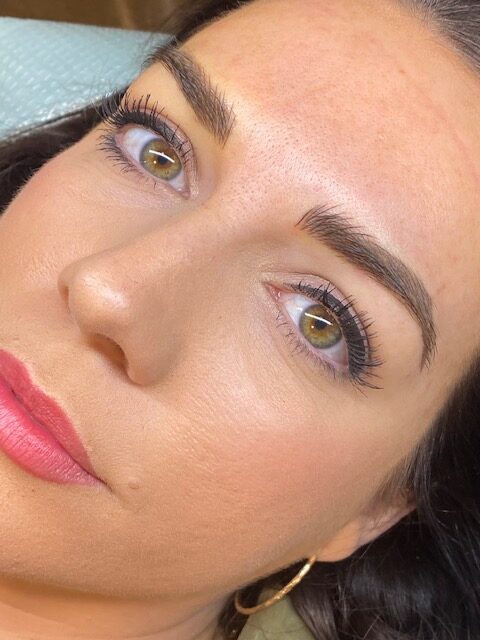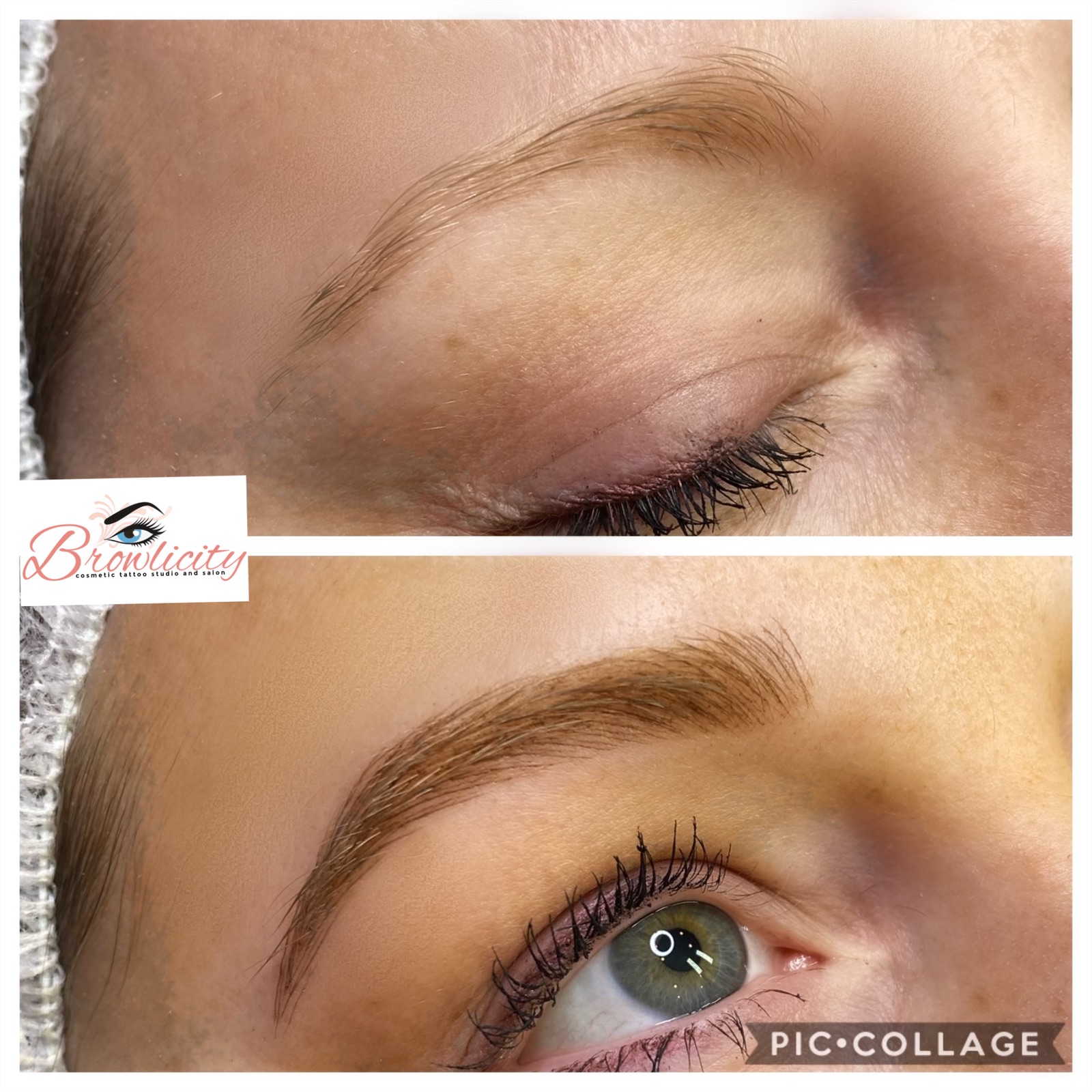 Microblading over faded tat
Brows previously tattooed that were considered permanent but have faded significantly enough (at least 70%) for Microblading. Pics MUST be emailed to determine if you're a candidate for Microblading.
Duration : 3-4 hours- Starts at  $675 (6-8 week touch-up $50 supply fee due at that time)
Ombré /Powder Brows
This technique is all shading and has no hair strokes at all. The shading starts out lighter at the head of the brow and gradually gets darker towards the tail. This can look more bold at first but heals softer and more powdery. Great for all skin types especially those who are oily.
Duration: 3-4 hours- Starts at $675
(6-8 week touch-up $50 supply fee due at that time)
Combo Brows
Microblading and Shading- Gives the appearance of a more "filled" in look when Microblading alone isn't quite enough to achieve a client's desired outcome. 
Duration : 3-3.5 hours- Starts at $650
(6-8 week touch-up $50 supply fee due at that time)

Microblading/PMU Brow Correction
If you had Microblading done elsewhere and it needs fixed or color corrected. We may ask you to send pics as it isn't always possible to fix or change. Can depend on saturation and varying factors. If proceeded with the process will need to be started over as we don't just do touch-ups on other artists work. 
Duration : 3-4 hours- Starts at  $675
(6-8 week touch-up $50 supply fee due at that time)
Airy Fusion Brows
Microblading or machine strokes at the head of the brow and airy shading through body and tail! Gives the appearance of a soft, lighter pixelated look at the top of the arch! Great option for any skin type including combo/oily skin and also someone who wants a filled in yet soft look! (Felicity's favorite!)
Duration : 3-4 hours- Starts at $675
(6-8 week touch-up $50 supply fee due at that time)
Microblading/PMU Brow t-up/color boost
Brows were done by Browlicity and need a touch-up or color boost Brows. MUST be at least 50% faded overall before scheduling this. If unsure email pics.
Duration: 1.5-2 hours- Starts at $250
(depends on what is needed)
Duration: 2-3 hours- $450-$550
(Depends on what exactly is wanted)
Available on Saturdays only
Eye Lash Enhancement
A very thin line applied along the lash line to darken it and make the eyes appear more distinct.
Duration: 2 hours- $350
Available on Saturdays only.
Becoming one of the most popular PMU services, lip blushing enhances the natural shape of the lip by creating symmetry and adding color. This is a natural enhancement that results in the look of a lip tint not a lipstick.  (see before you book-lip tab for more info)
Duration: 4-5 hours- $600
Scalp Micropigmentation, is a non-invasive treatment that uses detailed micro-needles to deposit pigment into the scalp. The result creates the appearance of tiny hair follicles that help thicken and restore the look of fuller hair. If you are starting to thin, recede, or if you are completely bald and want a hairline, SMP is for you! It's is also Ideal for women with diffused thinning, hair!  Here's how Scalp Micropigmentation stacks up against other hair loss solutions:
• No Surgery, No downtime
• Minimal Maintenance
• Budget-friendly
• No Medication
• 100% Effective
Call us today to set up a consultation !